Getting to EarthFair

Sunday, April 17, 2016 – Balboa Park
10am – 5pm
EARTHFAIR PARKING NOTICE
DO NOT PARK AT PETCO PARK ON SUNDAY EARTHFAIR SHUTTLES WILL RUN ONLY FROM CITY COLLEGE LOTS
We were just notified of this by the SDPD on Saturday before EarthFair. We apologize for any confusion or wasted effort.
Fifty- to sixty-thousand people driving to EarthFair creates real traffic and parking problems... so don't drive!
We have some alternatives that can help take the frustration out of getting there: public transit and shuttle, free guarded bike parking... and walking!
If you MUST drive we have handicapped parking, plus off-site parking and free shuttle service.
Take the Trolley and Walk or Shuttle to Balboa Park
There is a trolley stop about a 10 minute walk from the Park, or two shuttle options near the Trolley station.

Ride any Blue or Orange Trolley Line to the Trolley's City College Station in downtown San Diego. The Station is located between 11th Avenue and Park Blvd. and C Street and Broadway.

To walk to Balboa Park, go north on 12th Ave, which turns into Park Blvd. a few blocks north of the station. Walk north on Park Blvd. until you reach President's Way, then turn left into Balboa Park.

If you do not want to walk from the Trolley Station, you can:

The

Route 7 bus

stop is just steps away at the corner of 11th Avenue and C Street where you can board a Route 7 shuttle to Balboa Park.

Remember to get a Day Pass when you start your trip on the Trolley.

To plan your trip visit

www.sdmts.com

.

Take the FREE EarthFair Shuttle from the corner of Park Blvd. and Russ Blvd., four blocks north of the Trolley Station. The free shuttles run from 10:30am to 6:00pm, and drops you off at 6th Ave and Laurel. Walk into the park over the Cabrillo Bridge.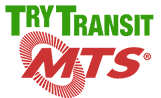 Take a Bus
To arrive on the west side of the park, take Route 120 and cross the Laurel Street Bridge into Balboa Park.

For complete information on bus and trolley service, please visit www.sdmts.com/. And remember, riding MTS Buses and Trolleys make every day "EARTH DAY." When you 5take transit instead of driving a car you reduce greenhouse gases, slow global warming and improve our air quality. Saving just one gallon of gas can eliminate 19 pounds of carbon dioxide emissions.
All-in-one Help from SANDAG
iCommute can assist you on your trip to EarthFair by providing free carpool and ride matching services, transit solutions, a bike map, and much more. To make your commute to EarthFair as easy as possible visit www.iCommuteSD.com.
There is free, guarded bike parking, coordinated by the San Diego County Bicycle Coalition, available in two locations:

On Village Place (off of Park Blvd., south of the Zoo)
behind the Natural History Museum

In front of the Museum of Man, just over the Laurel St. bridge. See the visitor map to find the exact locations.



If you don't want to ride the entire way to the park, drive part way, park in a convenient spot, and ride the rest of the way.
Our vision for a greener Earth one step at a time.

Walk to the EarthFair in Balboa Park! By walking we hope to inspire others to do whatever they can individually to help preserve our earth by setting an example of how we can all make a positive difference in our communities.
Driving, Parking and the Shuttles
There will be extra handicapped parking spaces reserved in the Organ Pavilion parking lot, off Presidents Way. The police will allow cars with handicapped parking permits into this lot as long as spaces are available.
Off-site Parking and Free Shuttle Service
A free shuttle service will take you between the Fair and off-site parking locations:
City College Lots

. Free shuttle buses will take visitors from the City College parking lots, off Russ Blvd., to 6th Ave. & Laurel St. Visitors will enter EarthFair by walking across the Laurel St. bridge.

From the 163 freeway exit, follow the signs for EarthFair Parking. Turn right on Park Blvd., then left (east) on C St., and left (north) on 16th St. Proceed to the lots: opposite Garfield Jr. High School on 16th, and the parking structure at 17th and C St.. The shuttle stop is on 16th, close to Russ Blvd., and is marked with a sign. The shuttle runs from 10:30 am to 6 pm.
 
Click here for a map.



Note that at peak traffic periods it can be faster to WALK to EarthFair from the City College lot than to take the shuttle.

Walk up 16th St. pass Russ, take the pedestrian bridge over I-5 to the Inspiration Point parking lot, walk up Park Blvd and cross Park at Presidents Way to enter EarthFair.